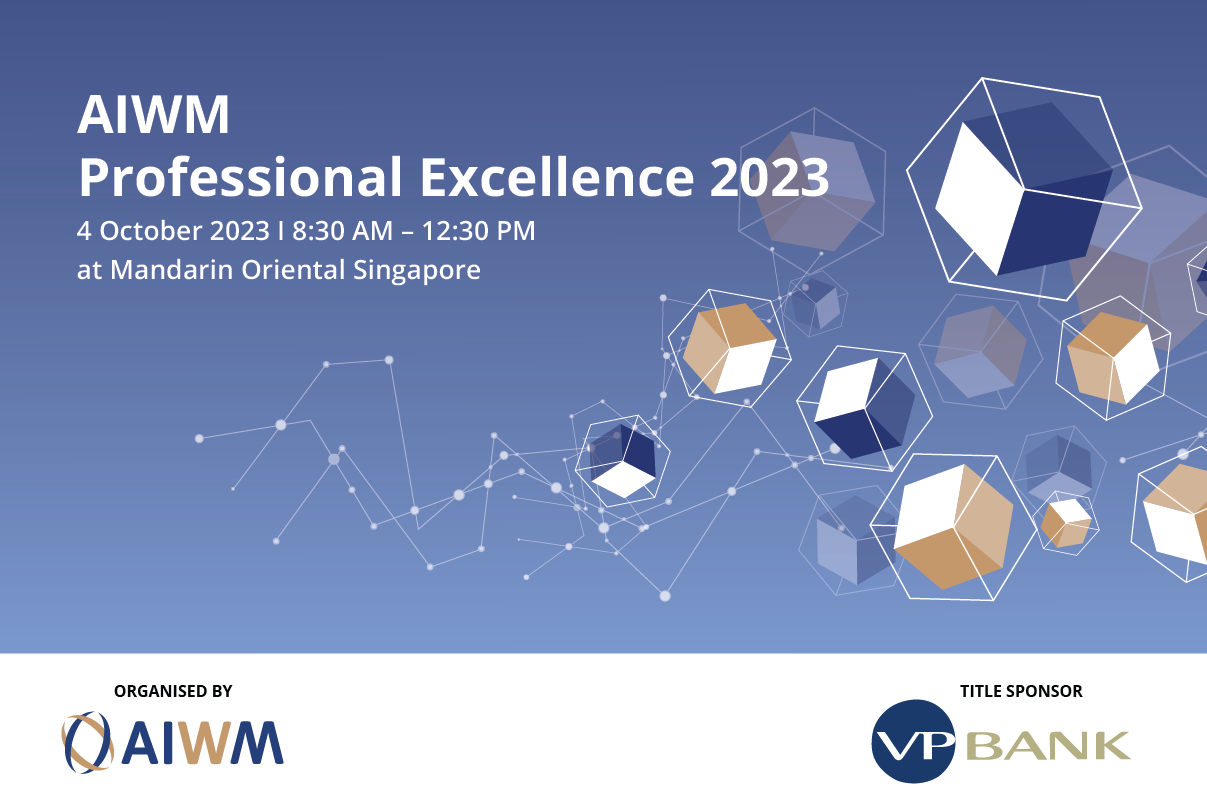 AIWM Professional Excellence
About the Event
Our bi-annual education workshops, AIWM Professional Excellence, are returning for the 5th year!
Since 2019, AIWM Professional Excellence has aimed to uphold our esteemed tradition of empowering our members through education and training, thereby raising industry standards. This half-day event will delve into key themes, including the exploration of the future of wealth management, investment strategies involving private credit and real estate, the facilitation of impactful philanthropy and legacy planning through donor-advised funds, risk management, regulatory expectations, tax-efficient wealth planning tools, and acquiring knowledge about business wealth transition solutions.
AIWM Professional Excellence is wholly dedicated to providing a platform for our members in the EAM sector to convene, engage in insightful discussions, nurture both new and existing relationships in person, and forge meaningful connections.
TIME

TRACK A

TRACK B

08:30 AM

Registration

08:55 AM

Welcome Address
Presentation
Opening Keynote by VP Bank: Investing into the Future

Speakers
Johnny Heng
Head of Singapore Branch

Thomas Rupf, CFA, FRM, CAIA
Chief Investment Officer Asia

09:35 AM
TRACK A
Presentation
Zedra Fund Services: Fund Structuring 101 – Considerations for Wealth Managers

Speaker
Kelvin Sng
Executive Diretor
TRACK B
Presentation
momenta Group: Effectiveness of Donor-Advised Funds for Impactful Philanthropy and Legacy Planning

Speaker
Dr Carl Thong
Group Managing Director
10:05 AM
TRACK A
Presentation
AVM Capital: What investors really want

Speaker
Ashvin Murthy
Founder & Chief Investment Officer
TRACK B
Presentation
Utmost Group: Life insurance as an investment

Speaker
Will Price
Head of International Distribution ASEAN
10:35 AM
Networking Break
11:00 AM
TRACK A
Presentation
Kilde: Role of Private Credit in the Investment Portfolio

Speaker
Radek Jezbera
CEO
TRACK B
Presentation
Kasa Singapore: Investing in Property Deals in the Digital Era

Speaker
Changwhan Yea
CEO
11:30 AM
TRACK A
Presentation
Sumitomo Mitsui Trust Group: What's driving Japan Equity Returns?

Speaker
Kota Murakami
Head of Fiduciary Business, APAC
TRACK B
Presentation
Kristal.AI: Wealth Management 3.0 – The "Phydigital" Advantage

Speaker
Swanzel Rautela
Head – Family Office & Fund Solutions
12:00 PM
TRACK A
Presentation
Ingenia Consultants: Risk Management & Regulatory Expectations – How to develop an effective risk framework

Speaker
Vijay Bharadwaj
Senior Manager
TRACK B
Presentation
HSBC Private Banking: Wealth Transition for Family Businesses – Passing the Torch

Speaker
Mary Chan
Head of Wealth Planning, Southeast Asia
12:30 PM

Event Ends
Important Notes:
1) Certificates of Attendance (COA) are issued based on attendance records.
2) A SGD150.00 no-show penalty fee per person is applicable for this event.
3) By registering for this event, you agree and consent to AIWM's Privacy Policy.