Up Close and Personal with… Stephan Repkow, Founder & CEO, Wealth Management Alliance (Singapore) Pte Ltd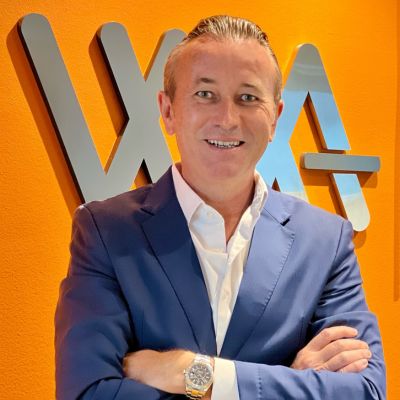 "Happiness drives engagement, drives performance, drives pride and purpose, drives energy… and energy drives energy."
– Stephan Repkow,
Founder & CEO,
Wealth Management Alliance Pte Ltd

 
Tell us about yourself and your company.

After 25 years of experience in the banking industry, in the fields of capital markets, asset management and private banking, and working in Asia since 1999, I founded Wealth Management Alliance Pte Ltd (WMA) in 2015.
WMA is what I like to call a "multi-single family office" (MSFO!). It reflects our core business of incubating single-family offices that want to build up their own organizational competencies, but need help getting there. WMA does that, by providing plug-and-play infrastructure that includes a five-person investment team, a two-person administrative team, dedicated office and meeting spaces, and IT infrastructure.
WMA is also designed from the ground up to avoid conflicts of interest. Although WMA is (CMS) licensed in Singapore for fund management, we are known for not having our own funds that we push to clients. Instead, WMA operates primarily in advisory, using our variable capital company (VCC) setup only to facilitate collective investments by our client community.
What is wealth management to you?
WMA strives to align our interests with clients fundamentally by linking compensation to performance, charging only a small retainer to cover basic operating expenses. WMA also is compensated solely by clients and accepts no retrocessions from any of the banks or asset managers we work with.
Over time, WMA also started taking on "external clients", who don't necessarily require the full suite of WMA's services, but rather only investment advice with the same transparency we offer the family offices.
We have learned that clients truly appreciate it when ethics and transparency are an integral part of a wealth manager's DNA, making us the 'Trusted Advisor' our clients fully deserve.
This is ultimately what I believe is Wealth Management.
3 things I've learned over time, and probably more acutely the last 3 years thanks to my team, clients, friends and family:
I've learned that if you feel the smartest in the room, you are probably in the wrong room. The team spirit always wins.
I've learned to do things as seriously and thoughtfully as possible, but to never take yourself too seriously and to stay humble.
I've learned that the best quality in a leader is happiness. Happiness drives engagement, drives performance, drives pride and purpose, drives energy… and energy drives energy.
This website uses cookies to ensure you get the best experience on our website.