Up Close and Personal with... ... Max Tan, CEO of Red Beacon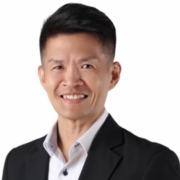 " (…) Days are long, years are short; be it career or personal. I find that time becomes more valuable as we continue to race against it to achieve the goals we set for our career and family. "
– Max Tan, CEO, RedBeacon Asset Management Pte Ltd
Could you please introduce yourself and your company?

Red Beacon Asset Management is founded by passionate industry professionals, where we combine our vast experience with rigorous research to formulate forward-thinking investment strategies.
For myself, I have close to two decades of banking experience across retail and offshore banking sales; investment and treasury advisory as well as product and management in priority and private banking environments. Responsible for the overall strategic development of the company, Red Beacon is now one of the fastest growing asset management firms in Singapore.
What is wealth management to you?
The opportunity to connect with clients, to appreciate their precious faith and confidence, and be instrumental in achieving their financial goals.
Three things you've learned over the past three years (career & personal)?
Honest work for clients over the years and the hard-earned appreciation from them is the best fuel to deal with the curve balls in the financial markets. The pandemic was an unexpected litmus test for the relationships that we have painstakingly built and I am grateful for the greater heights today.
There are more ways to learning in our dynamic world and there are more teachers than we imagine. Technology has been a great enabler to achieve valuable resources and acquire new knowledge; it is about consistently taking the first step(s).
Days are long, years are short; be it career or personal. I find that time becomes more valuable as we continue to race against it to achieve the goals we set for our career and family.
This website uses cookies to ensure you get the best experience on our website.