Up Close and Personal with... ... Andrea Ciaccio, CEO & CIO, Azimut Investment Management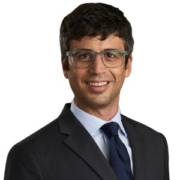 "We have just entered the golden age of wealth management; the industry is maturing and players with top-notch financial solutions will be able to scale and consolidate it. We have the wind at our back and it is up to us to execute."
– Andrea Ciaccio, CEO & CIO, Azimut Investment Management
Tell us about yourself and your company.

Azimut Group is an independent asset management and wealth management firm founded in Italy in 1989, and one of Europe's largest, operating in 17 countries with 18 offices around the world. We have over 170 investment professionals and manage over EUR 83 billion in assets. In Singapore, Azimut Investment Management provides bespoke wealth management, fund management, and family office solutions to high-net-worth and ultra-high-net-worth individuals, with over 50 highly skilled professionals. As the CEO, CIO, and member of the Board of Directors, I bring over two decades of experience in financial management and investment strategy to support and facilitate the growth of the Azimut Group in the Asia-Pacific region.
What is wealth management to you?
Wealth management to me is a family business. My father has been a relationship manager his whole life, and I grew up going to client meetings with him. It's about helping clients achieve real wealth, beyond just their money, which includes family, legacy, and knowledge. Professionally, as a wealth manager, I see it as my responsibility to guide clients in achieving their financial goals and securing their future. It's about understanding their unique needs and providing tailored solutions, backed by expertise and experience. Wealth management is not just about investing, but about building relationships and helping clients navigate life's uncertainties.
Three things you've learned over the past three years (career & personal)?
In 2021 the Azimut Group expanded in the US through Sanctuary Wealth, a platform for the next generation of elite advisors. Since 2022, several Private Equity managers have been taking strategic stakes in these businesses to accelerate their growth. What I learned from those partnerships is that wealth management is the booming financial sector of the 2020s, as asset management was in the late 1990s / early 2000s and private equity was in the 2010s. We have just entered the golden age of wealth management; the industry is maturing and players with top-notch financial solutions will be able to scale and consolidate it. We have the wind at our back and it is up to us to execute.
Relocating to Singapore has been a significant learning experience for me after spending ten years in Hong Kong. Many Europeans equate the two cities, but in reality, I have found them to be vastly different. Singapore's unique blend of Eastern and Western influences and multi-race culture has made it an exciting place to live and work. As a leading financial hub, Singapore provides us with a golden gateway for bringing our capabilities and expertise to Asia at a time the world's economic center of gravity is moving East.
Finally, transitioning from being a young talent in the company to forging and guiding the next generation of leaders has been one of the most significant learning experiences for me. Passing on what I have learned from the mentors who helped me in my career has been exciting not just for me, but has contributed to the growth of our company and it has allowed me to cultivate emerging leaders who will shape the future of our industry.
This website uses cookies to ensure you get the best experience on our website.