Share a useful resource with AIAM members
We are glad to announce that we have a new online members' area for you to promote the useful resources you can share with our community.
These useful resources are valuable assets that support, train, and educate ordinary members to champion the best industry practices, professionalism, and integrity of IAMs in Singapore.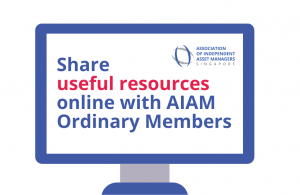 Support our members and raise your profile in our community!
There are 4 main categories you can contribute to:
Useful Templates
Special Rate for AIAM Members
AIAM Compliance & Regulatory Library
Thought Leadership / Education
Here is a form for you to submit a useful resource. 
As an Associate Member, your support and commitment to keep our members up to breast about the development in the industry are essential.
This is also a great opportunity for you to be visible and raise your profile in our community. The most interesting resources will be featured in our monthly newsletter.
We thank you very much for your support and contribution to the association. Feel free to contact us should you have any questions.
This website uses cookies to ensure you get the best experience on our website.