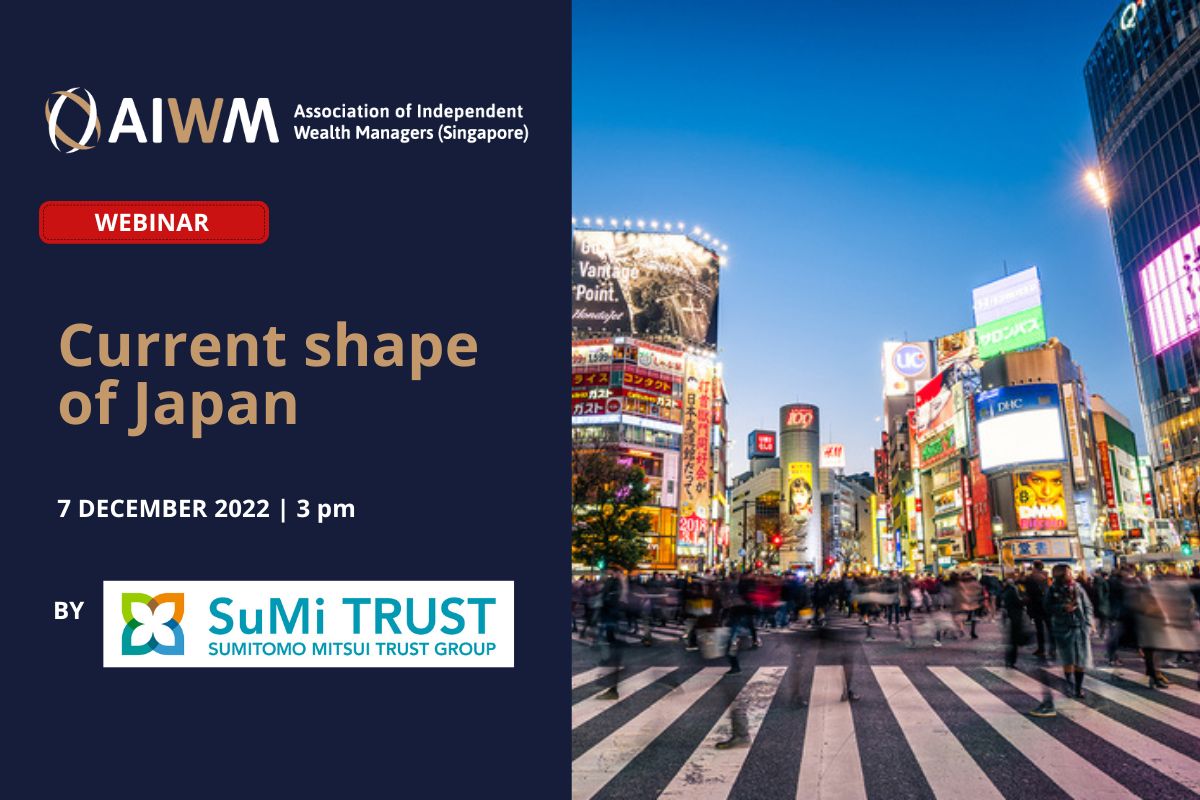 Webinar on the current shape of Japan
You are invited to join the webinar session hosted by SuMi Trust Group.
Do you ever wonder what is the current shape of Japan with the yen depreciation and its forecast for 2023?
For this session, Mr. Hiroyuki Ueno and Mr. Hiroshi Takeuchi will share local information which is difficult to obtain outside Japan. Such as what are the changes in Japan in 2023 to deal with the creeping inflation and which sectors in the real estate market are interesting and drawing attention from foreign investors.
Mr. Hiroyuki Ueno Session
Japan is still maintaining zero interest policy. Due to the differences in the central banks' monetary policies, the Japanese yen is depreciating and the government/Bank of Japan (BoJ) intervened in the FX market. On the other hand, inflation is creeping up in Japan as well. The governor of BoJ will change the next April but does it affect its easing stance? At the 1st session, Mr Ueno will share local information which is difficult to obtain outside of Japan. He has a strong network with government officials/staff of the BoJ.
Mr. Hiroshi Takeuchi Session
On the back of the yen depreciation as well as its relative valuation, the Japanese real estate market is drawing the attention from foreign investors. Will this continue? Which sector/area is interesting? Mr Takeuchi, who has been engaging global investors to invest in Japanese real estate, will introduce the current trend in the Japanese real estate market and investment opportunities.
KEYNOTE SPEAKER
Hiroyuki Ueno
Chief Strategist
Hiroyuki joined SuMi TRUST in 2002 after working for a Japanese investment management company. He has been Chief Strategist since October 2017.
Through over 20 years of experience working in the investment industry, he is well-versed in the investment management business and has a strong network in the industry.  Hiroyuki's primary focus is macroeconomy and financial market analysis. His insights based on his own analysis combined with information gathered from his broad network are widely acclaimed.
Hiroyuki is a Certified Member Analyst of the Securities Analysts Association of Japan (CMA).
Hiroshi Takeuchi
Executive Manager
Hiroshi joined SuMi TRUST in 1988. He started his career in the international financial business and worked in Belgium for 4 years. After coming back to Japan, he has been engaged in the real estate business including asset management, consultation for J-REIT,  brokerage and real estate trustee.
Since 2011, he has been leading the cross-border real estate business. He has been working with global investors and successfully closed many deals. He has also accumulated the experience to develop the outbound business with Japanese investors. He has over 20 years real estate industry experience.