Webinar: Global Equities: Smaller companies, larger returns?
Date and time: Wednesday, November 25, 2020, 4:00 PM (GMT +8)
Duration: 1 hour
A certificate of attendance will be provided for those who attended the entire session.
Details:
Small can be beautiful come next year. A good part of the market rally in 2020 has been propelled by the mega caps. Smaller caps could power the next leg of the rally as the world makes steady progress toward a coronavirus vaccine, which should lay the path for a consistently strengthening economy. We believe this asset class offers the potential for better long-term returns, notably from a different alpha source to achieve better diversification.
At Columbia Threadneedle, we have been successfully running smaller cap strategies for over 20 years. There are very limited global smaller-cap funds in the market with a comparably long track record and strong performance like ours. Join us at this webinar to hear from Scott Woods, portfolio manager of the Threadneedle (Lux) Global Smaller Companies Fund, who will present the investment case for this underappreciated alpha sleeve, our investment philosophy, and the innovative small giants we like.
KEYNOTE SPEAKER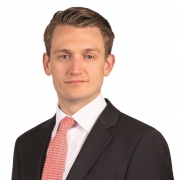 Scott Woods
Portfolio Manager
Threadneedle (Lux) Global Smaller Companies Funds