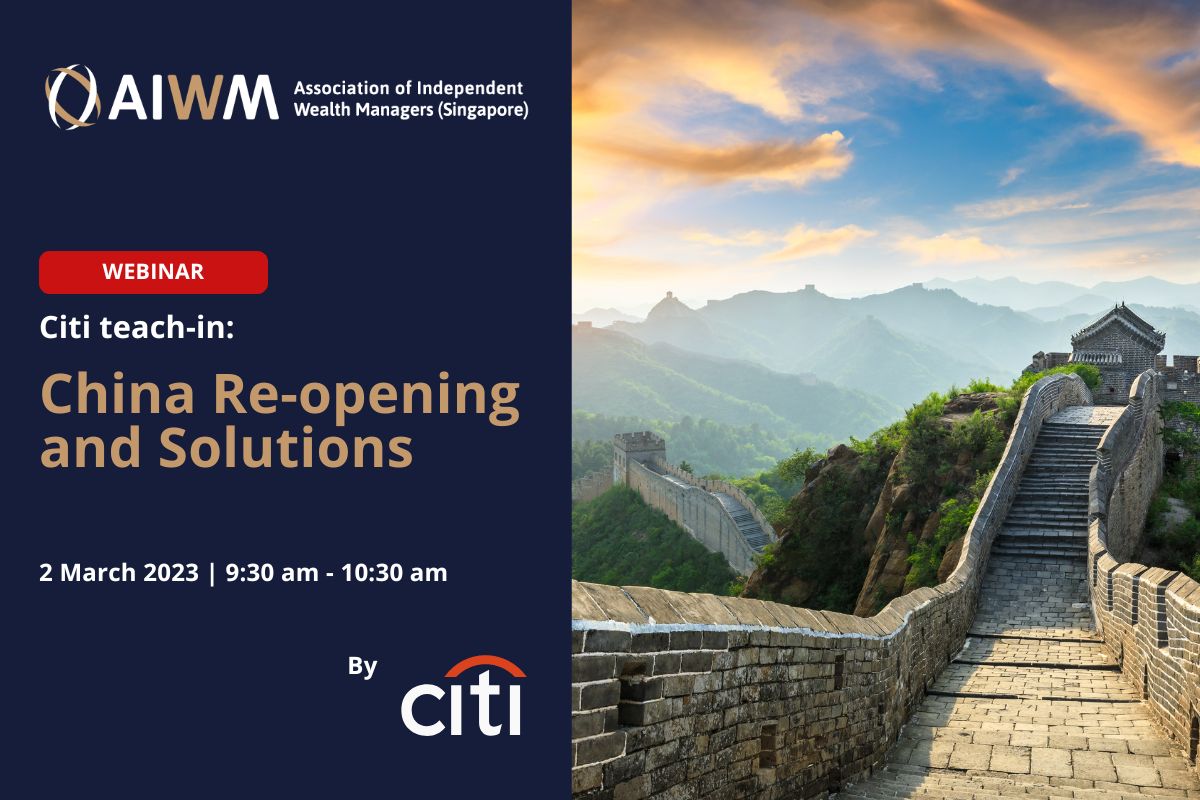 Citi teach-in: China Re-Opening and Solutions
China is expected to be the only major economy to see its growth pick up in 2023 after re-opening, with GDP growth at 5.3% as Citi estimates. The economic growth would be driven by the consumption catchup post fast re-opening, with growth rate at 9.5% as Citi estimates, supported by the mobility improvement and huge amount of excess saving during pandemic years. Also, government is releasing positive signals in fiscal, monetary, property and private sector policies, with "forcefully revive market confidence" as central priority.
Citi has built several baskets to capture the China re-opening with tourism and consumption stocks. Additionally, for short term Citi has built baskets with best risk-reward performance with property stocks, and for long term Citi has built baskets with SMID high tech stocks in line with national development strategy.
Join Citi experts, Xiangrong Yu, Chief China Economist and Mederic Gehl, Head of Delta One Index Sales, as they discuss China re-opening and solutions around Delta One custom-basket.
Speakers
Xiangrong Yu
Chief China Economist
Prior to joining Citi Research in 2017, Xiangrong was at China International Capital Corporation (CICC) for three years, where he was a China economist advising institutional investors. His earlier roles include economist positions at the Hong Kong Monetary Authority and the International Monetary Fund.
Xiangrong is a top-ranked China economist. He was ranked No. 1 for economic research in Asia (ex-Japan) in the Institutional Investor (II) Global Fixed Income Survey in 2022 and No. 3 in 2021. He was also ranked No. 3 in economic research in the II All-Asia Research Survey in 2022 and 2021 and was runner-up (ranked No. 4) in 2020 and 2019. Xiangrong was part of the top-ranked economics team in the II All-China Survey in 2016 and 2015. Xiangrong holds a Ph.D. in economics from the University of Wisconsin-Madison. He earned his M.A. and B.A., both in economics, from the Peking University. Xiangrong has been frequently cited in both the Chinese and international media, and his academic work has appeared in leading journals.
Mederic Gehl
Head of Delta One Index Sales
Mederic joined Citi in 2017 as a Citi Investment Strategies (CIS) specialist. Before the current position, Mederic held multiple equity derivatives sales positions in BNP Paribas, Natixis and Deutsche Bank in New York, Paris, Singapore and Hong Kong. He hold a Master's Degree in Accounting and Finance from Panthéon-Assas University Paris II and in Finance from École nationale des ponts et chaussées.