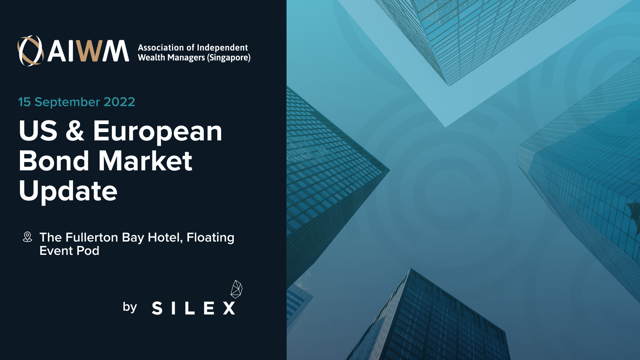 US & European bond market update Breakfast organised by Silex on 15 September at 8:30 am
You are invited to the upcoming US and European Bond Market Update Breakfast session with Gerald Sinnasse, Senior Portfolio Manager, at SILEX.
Thursday, 15 September 2022
From 8:30 to 9:30 am
The Fullerton Bay Hotel, "Port of Call" Floating Event pod.
Seats are limited, register now
Synopsis
2022 will be remembered in class books as one of the largest rate shocks of the last decades making 1994 look like a walk in the park and triggering dramatic drawdowns. The last few years have skewed investors' perception of credit risk on the back of abundant liquidity and rock bottom rates.
As monetary and fiscal stimuli are being withdrawn, real disposable income has become deeply negative increasing the odds of a recession. The current macro environment calls for a new approach: it is time to go back to fixed income but with subtlety and care!
A focus on credit quality and sector risk is key in taking advantage of the attractive yield environment that has started to emerge.
Note:
Existing SMM rules and regulations apply

An SGD50.00 no-show penalty fee per person is applicable
Speakers
Gerald Sinnasse
Senior Portfolio Manager
SILEX
He is the lead manager of the in-house fixed maturity bond fund. He started his career in 2007 as an analyst in structured credit covering ABS and credit exotics in NYC, then moved to London in 2009 as a market maker on CDS and iTraxx indices. Before joining SILEX, he was the head of CDS trading and CEE bond trading at Societe Generale. He holds an MBA.
Gregory Guillas
Investment Solutions
SILEX
He has more than 15 years of relationship management experience with a career spanning across wealth management and investment banking in Luxembourg, London, Hong Kong, and more recently Singapore and Geneva.
At Silex, he's responsible for building partnerships with wealth managers in Asia and supporting them every step of the way, around our main expertises: asset allocation, portfolio construction and a host of tailor-made investment solutions (actively managed certificates, hedging or yield enhancing instruments).
Having lived in Singapore for several years, he's always up for a good Hokkien mee or prata with fish curry.