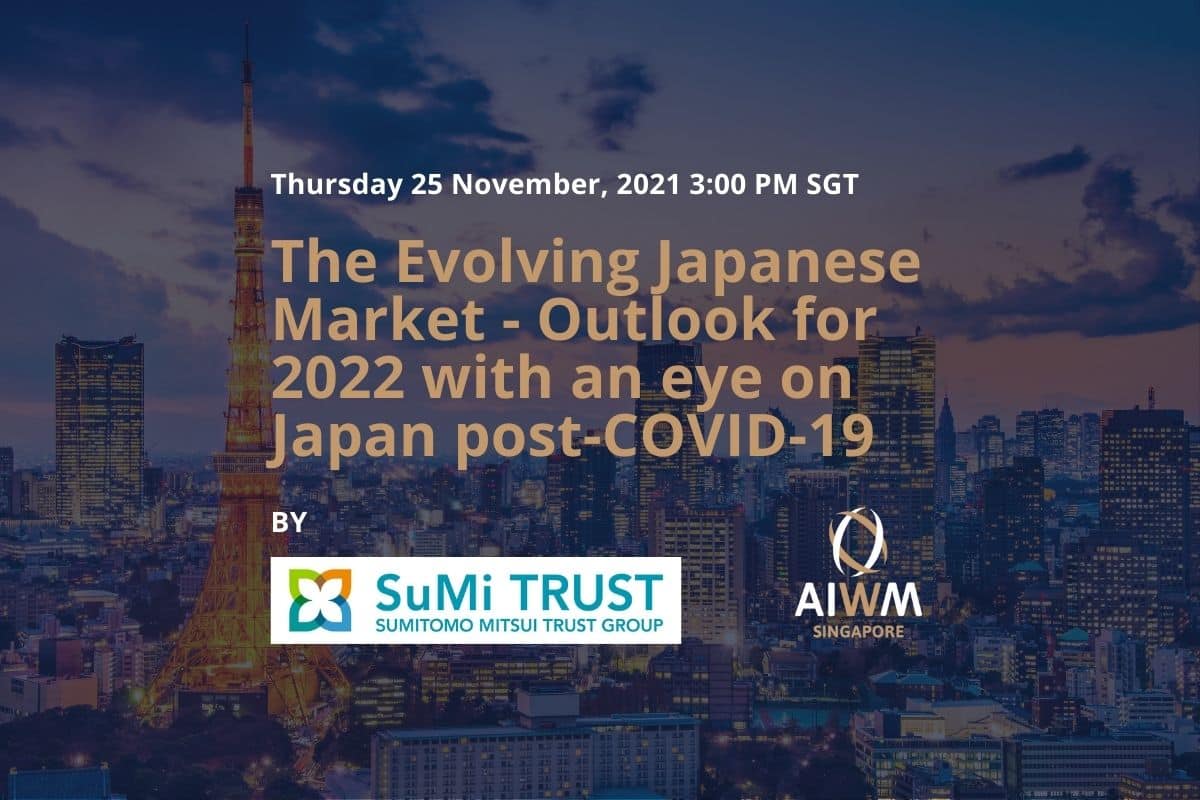 The Evolving Japanese Market – Outlook for 2022 with an eye on Japan post-COVID-19
SuMi Trust Group is returning for the 3rd time and cordially invites you to join their talk on the Japanese Market Outlook at a post-pandemic time.
After Japan's Corporate Governance Code was first compiled in 2015, the second revision was published in July this year. This revision includes steps toward the coming market realignment scheduled for April 2022. How will the markets respond? Is corporate behaviour changing? This webinar will be held in 2 sessions, a presentation by the Tokyo Stock Exchange and the one by SuMi TRUST.
The Tokyo Stock Exchange, the heart of Japan's financial market, will introduce these new rules, and discuss implications to companies and the market.
SuMi TRUST, as the largest Asian asset manager and Japan investment specialist, will share its view on the Japanese equity market in 2022.
We request the pleasure of your virtual company, on
25 November 2021 at 3:00 pm SGT.
Key takeaways for this webinar.
Session 1:
Tokyo Stock Market Overview
TSE's new market segments & TOPIX Revision
Revision of the Corporate Governance Code
The IPO Market – Cross-border IPO
Keywords in investing – ESG, DX, what else?
Session 2:
New Prime Minister Kishida and his policies – what will change and what won't change
Market forecast – will the market hit a new high since 1989?
Our focus on Japanese industries post-COVID-19
About SuMi TRUST Group


The SuMi TRUST Group is a Japanese financial group which can be traced back to 1924. It began as a trust company and now conducts commercial banking, real estate and asset management business. The group comprises a holding company (Sumitomo Mitsui Trust Holdings, Inc.) whose wholly-owned core subsidiaries are Sumitomo Mitsui Trust Bank, Limited ('SuMi TRUST Bank') and Sumitomo Mitsui Trust Asset Management Co., Ltd. ('SuMi TRUST AM')
KEYNOTE SPEAKER
Naoya Oshikubo
Senior Economist
Sumitomo Mitsui Trust Asset Management
He joined Sumitomo Mitsui Trust Asset Management in September 2018. He covers the global macro-economy (including Japan) and is an authority on the world's financial markets.
Before joining SuMi TRUST, he was an economist and investment risk management specialist at Nippon Life Insurance, and a strategist at Barclays. He has written numerous articles about the economies and markets for globally major media publications.
Naoya graduated from the University of Tokyo, College of Arts and Sciences and obtained an MBA (concentration in finance) from Waseda Business School. He is a Chartered Member of the Securities Analysts Association of Japan.
Kazuhiko Yoshimatsu
General manager & Chief Representative
Tokyo Stock Exchange, Inc. Singapore
Kazuhiko Yoshimatsu joined the Tokyo Stock Exchange (TSE) in 1997 where he handled business development and planning in securities/derivatives trading, listing rule & corporate governance, compliance & market surveillance areas. He worked at the Financial Services Agencies of Japan (JFSA) for 2 years, and experienced corporate strategy, global strategy, media relations & investor relations at the Japan Exchange Group (JPX). He also experienced promotion and policy recommendations of the Japanese capital market at The Consortium for Japan International Asset Management Center Promotion (JIAM) and The Organization of Global Financial City Tokyo (FinCity.Tokyo).