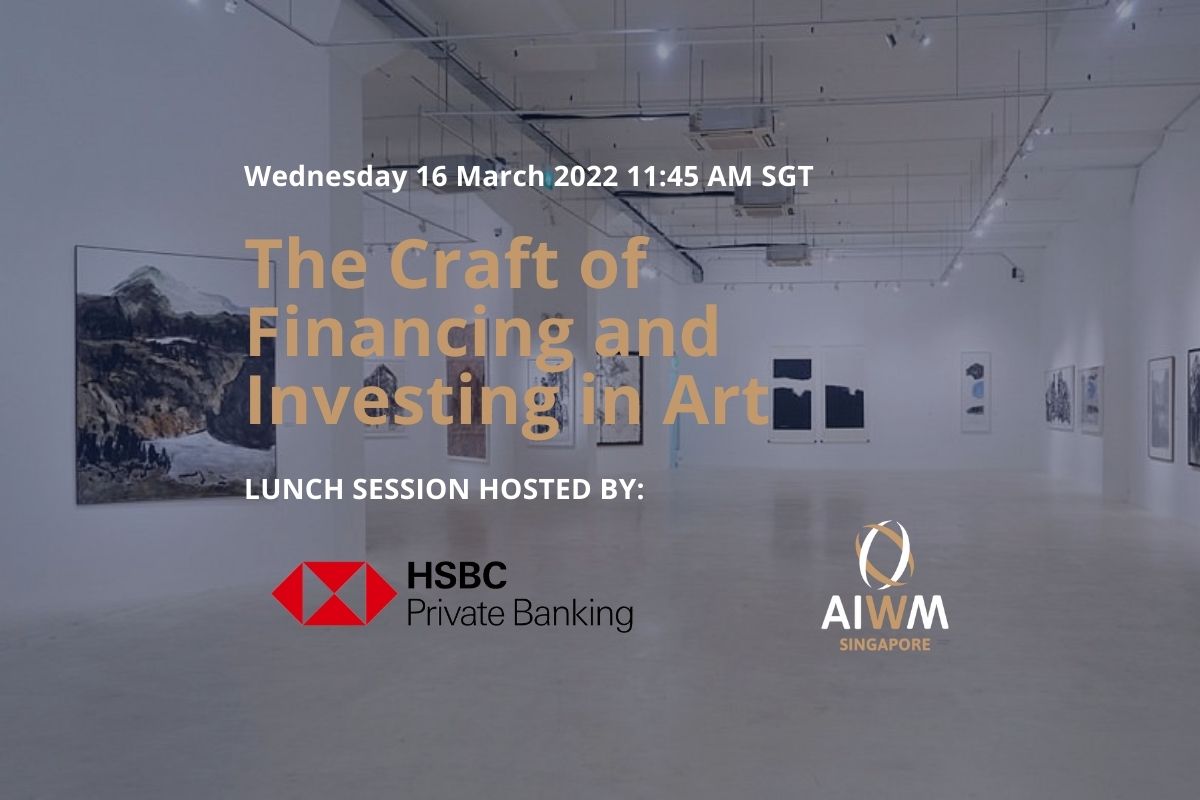 The Craft of Financing and Investing in Art
We are delighted to share the first Art Financing session hosted by HSBC Global Private Banking.
You are cordially invited to join us over a lunch session to guide you through the craft of financing and investing in Art.
Art collection can be purposeful and meaningful and the relationship between art and art financing goes hand-in-hand, enabling art collectors to engage with the positive impact of preserving, protecting and conserving a legacy.
Globally, there is an increasing demand for art financing as many HNWIs have valuable tangible assets that represent a significant proportion of their wealth. The session can guide and help HNWIs pursue their passion for arts, while offer simplified financing solutions to expand their art collection allowing them to pursue other passions without disrupting their investment goals.
Reminder for joining:
Mask up at all times (except during lunch)
Kindly advise us of any special dietary restrictions (if any)
Fully vaccinated guest only
EVENT DETAILS;
We request the pleasure of you joining us over lunch on:
Wednesday, 16 March 2022 at 11:45 AM SGT
Gajah Gallery – 39 Keppel Road, Tanjong Pagar Distripark, #03-04,
Singapore 089065

Programme:
11:45am – 12:00pm
Guests registration, check in, to be seated
12:00pm – 12:55pm
[Three course lunch to be served]
12:55pm – 1:00pm
Welcome address
1:00pm – 2:00pm
Panel discussions with Q&A
HSBC speakers & Lifestyle speaker
2:00pm
Event end
Key topics:
General overview of the evolving art market
How the art market has been performing as an asset class
Art financing structure and what to consider
Building/Managing art collections:
Why do people collect
Where are the best places to start
How to know you are paying the right price for an artwork
What to consider when buying artwork for investment purposes
Logistics of owning art (storage, insurance, etc)
When and where to sell art
Framework to building a collection
About HSBC


HSBC is one of the world's largest banking and financial services organisations. We serve more than 40 million customers through our global businesses: Wealth and Personal Banking, Commercial Banking, and Global Banking & Markets. Our network covers 64 countries and territories in Europe, Asia, the Middle East and Africa, North America and Latin America. We aim to be where the growth is, connecting customers to opportunities, enabling businesses to thrive and economies to prosper, and ultimately helping people to fulfil their hopes and realise their ambitions. Listed on the London, Hong Kong, New York and Bermuda stock exchanges, shares in HSBC Holdings plc are held by around 197,000 shareholders in 130 countries and territories.
About HSBC Private Banking
As part of the HSBC Group, one of the world's largest banking and financial services organisations, HSBC Private Banking seeks to be the leading international private bank for business owners and their families. It provides clients with wealth, business and family succession solutions in the largest and fastest growing markets around the world. HSBC Private Banking is the marketing name for the private banking business conducted by the principal private banking subsidiaries of the HSBC Group.
KEYNOTE SPEAKERS
Melissa Bacani
HSBC Speaker
Melissa Bacani is Head of Origination and Credit Advisory, South Asia for Private Banking and Wealth Management at HSBC and is based in Singapore. In this role, Melissa provides credit solutions to private banking clients looking to leverage against their assets. These assets range from securities, real estate, insurance, hedge funds, and private equity to trophy assets such as private jets, yachts and fine art.
Prior to joining HSBC Private Banking, Melissa was Head of Specialty Financing and COO for Investment Finance at Citi Private Bank, based in Hong Kong. As Head of Specialty Financing, she was responsible for private jet and art lending for Asia Pacific as well as Global Program Manager for Insurance Premium Financing. She began her career in London with the Capital Markets Origination team at Citi Global Markets working on large corporate and cross border
acquisition financings for European blue chips.
Melissa has an MBA from the London Business School and an MSc in Social Policy and Planning from the London
School of Economics and Political Science in the UK.
Mary Chen
HSBC Speaker
Mary comes from both independent trustee and private bank wealth planning background, bringing with her over 10 years of experience in trust and estate planning.
Prior to joining HSBC as the Head of Wealth Planning S.E.A, Mary has worked with a well-known independent Trust company, overseeing the SG and HK business development and support team. She also manages an extensive portfolio of ultra-high net worth private clients spanning several jurisdictions in Southeast Asia and North Asia.
Prior to joining HSBC as the Head of Wealth Planning S.E.A, Mary has worked with a well-known independent Trust company, overseeing the SG and HK business development and support team. She also manages an extensive portfolio of ultra-high net worth private clients
spanning several jurisdictions in Southeast Asia and North Asia. In the course of her work, she has assumed key management role, sits on the board of directors and direct clients' advisory work in establishing private onshore and offshore fiduciary structures, coordination of cross-border tax, setting-up appropriate wealth protection and succession planning structures for trans-generational high net worth clients. She has past experiences in liquidity, estate and
succession planning.
Mary holds a Honours Degree in Business Studies (Banking and Wealth Management) from the University of Ireland and is a full member of the Society of Trust and Estate Practitioners.
Lourdes Samson
Lifestyle Speaker
Seed Art Space
Lourdes Samson's interest in curation and the artistic practices of Contemporary Southeast Asian artists led her to pursue a Masters degree in Asian Art History at Lasalle College of the Arts in Singapore. This interest was honed by years of collecting art works from the region, a passion that she shares with her husband.
Prior to forming SEED, she participated in various exhibitions aimed at bringing selected works from private collections to a wider audience. She holds a Bachelor's degree in Management Economics from the Ateneo de Manila University in the Philippines and a MBA degree from the Kellogg Graduate School of Business, Northwestern University in Evanston, Illinois.
Kim Tay
Lifestyle Speaker
Artling
Kim is the Gallery Director of The Artling and a long-standing founding member of the team. Kim manages The Artling's online platform, where she oversees an online inventory of close to S$320m, working with artists, designers and galleries from all over the world. She also leads the company's various consultancy projects across the globe, sourcing and commissioning artworks for private and corporate clients, ranging from the Google offices in Singapore to the Ritz Carlton in the Maldives.
Kim has spoken about art collecting, the regional art scenes, and the crucial synergies between art and technology at various conferences, such as Art World Forum in Singapore and Hong Kong and the 2nd Immersive Augmented and Virtual Reality World Conference in Singapore, as well as panels for Hermes and The Art Week Conversations in Singapore.
Camilla Hewitson
Moderator
Camilla Hewitson is Director of CMH Art Consultancy and previously worked with the British brand, Affordable Art Fair, to launch the Asia Pacific arm of the business. Over a decade, Camilla founded and developed the launch of the Singapore, Hong Kong, Seoul and Melbourne art fairs and then acted as a Non-Executive Director for the Singapore business. Prior to that, Camilla was part of the founding team of Art Dubai helping to shape and deliver a sustainable entry to market of the first contemporary Middle Eastern art fair in history.
Her earlier years at ?What IF! Innovation in London, saw Camilla immersed in projects to drive innovation internally for various corporate clients such as HSBC, Unilever, The BBC, McKinsey and Diageo. This set the foundation in her belief that to effect successful change one must begin with unlocking the power of people's potential. Her consultancy work focuses on building partnerships, art programming and strategic work for a variety of clients from private member clubs, restaurants, art galleries to MICE events.
This event is fully booked. Please contact
support-sg@aiwm.sg
if you'd like to be put on a waiting list.