Webinar | Risk-based asset allocation, a smarter way to build multi-asset portfolios
Date and time: Thursday, March 4, 2021, 4 PM (SGT)
A certificate of attendance will be provided for those who attended the entire session.
The performance of many asset classes has defied expectations in 2020 – where does this leave overall valuation levels and how will this impact your asset allocation positioning going forward?
The unexpected and unforecastable challenges in 2020 rewarded those investors with an agile and humble mindset. We believe this same mindset will prevail in 2021, as visibility remains low and the investment environment continues to be challenging. Therefore, building resilient portfolios offering capital growth while limiting downside risks should be a core allocation to any investors. While traditional capital allocation methods may mask undesired concentration, risk-based allocation offers, in our view, a better form of diversification and a path to smoother returns.
At Lombard Odier IM, we have been successfully managing risk-based portfolios for over 10 years. Join us at this webinar to hear more about our investment philosophy, how to define a long-only risk-based strategic asset allocation and how to efficiently manage downside risk – taking care of the losers and letting winners take care of themselves..
Key Highlights
Risk-based asset allocation vs. traditional capital-based allocation (i.e. "60/40 portfolio")
Benefits in portfolio as a Core and Satellite allocation
How will multi-asset portfolios fare going forward?
SPEAKER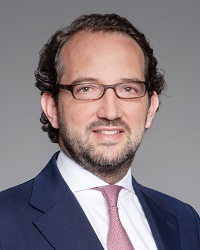 Alain Forclaz
Deputy CIO, LOIM Multi-Asset
Lombard Odier
Prior to joining Lombard Odier in 2016, Alain founded Kereon Capital and was a Director at Royal Bank of Scotland from 2007-2012, structuring, executing and risk managing a wide range of fixed income derivative solutions for institutional clients. Prior to that he was a VP at Credit Suisse First Boston and an analyst at Moody's Investors Service. Alain earned a master's degree in mathematics from the Swiss Federal Institute of Technology, Lausanne (EPFL) and a PhD in mathematical sciences from Oxford University.