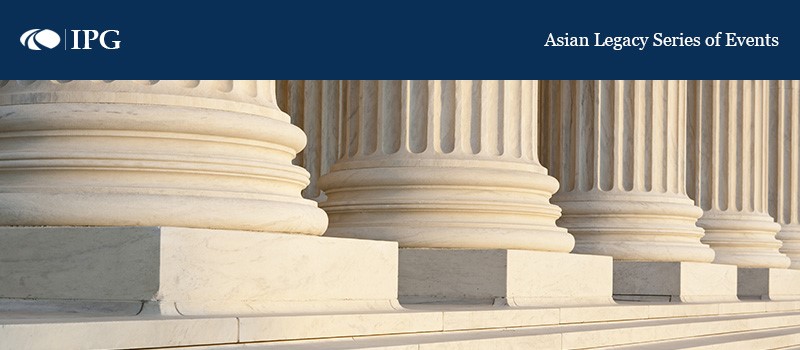 IPG Financial Services Pte Ltd | 24 April 2019 Understanding Matrimonial & Family Law for Asset Protection
As family disputes and divorces become more prevalent, more affluent individuals are seeking better understanding of family and matrimonial law to protect their assets from unpleasant lawsuits.
Join us for a private dinner talk as part of IPG's Legacy Series of Events, where you can find out more about the breadth and nuances of matrimonial and family law in Singapore.
Following the presentation on law, we will be focusing on wealth planning. The distribution and orderly transfer of wealth to the next generation require careful forward planning and may potentially help to resolve family conflicts.
Gain insights on liquidity and wealth planning from our financial expert, who will share case studies to address the complex needs of high-net-worth individuals and their families.
We look forward to seeing you at the event.
RSVP:
Seats are limited. Please RSVP here by Friday, 12 April 2019.
For enquiries, please contact Mr. James Fan at +65 6327 6212 or jfan@ipgltd.com
KEYNOTE SPEAKER

Ms. Hoon Shu Mei
Senior Associate, Specialist & Private Client Disputes Practice, WongPartnership LLP
Shu Mei has been involved in include acting for or advising High Net-Worth Individuals in cross-jurisdictional matrimonial proceedings at all levels of the Singapore Courts, including representing clients in mediations; on wealth management, trusts, wills, mental capacity and matrimonial issues.

Mr. Kelvin Choo
First Vice-President, International Planning Group
Kelvin has more than 10 years of experience in the wealth management industry of which the last 6 years was focused on life Insurance. Prior to joining IPG, Kelvin was a Senior Associate Director with an International Broker, a Wealth Advisor at OCBC Private Bank and Director of Insurance at Bank of Singapore after its merger with ING Asia Pte Bank. Based in Singapore, Kelvin advises High Net Worth individuals and families to achieve their wealth transfer planning objectives with internationally-sourced life insurance based solutions.