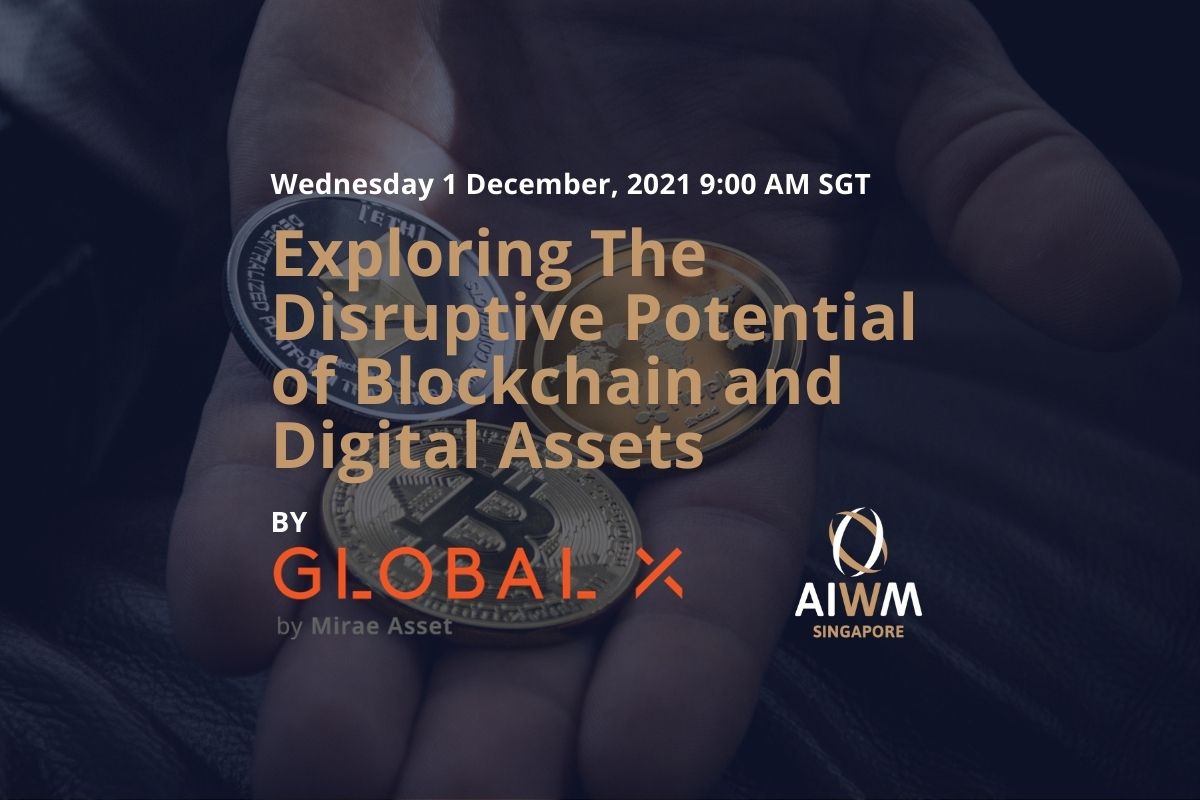 Exploring The Disruptive Potential of Blockchain and Digital Assets
Global X by Mirae Asset is back and cordially invites you to join their webcast and explore the disruptive potential of blockchain and digital assets.
With bitcoin prices soaring and cryptocurrencies surpassing more than $2.5 trillion in market capitalization, financial advisors and institutions are increasingly considering strategic allocations to digital assets.
In this webcast, we will analyze the technology behind digital assets, the blockchain, through a thematic lens. We will also discuss digital assets more broadly and the imperative for advisors and family offices to learn more about this emerging asset class.
We request the pleasure of your virtual company, on
Wednesday,  1 December 2021 at 9:00 AM SGT.
KEYNOTE SPEAKER
PEDRO PALANDRANI
Research Analyst
Global X ETFs
Pedro joined Global X in 2019 as a Research Analyst covering the Thematic Growth suite of ETFs, including those in the Technology, People, and Infrastructure categories. Prior to joining Global X, Pedro held the role of Equity Research Analyst at Cabot Wealth Management where he worked on the firm's growth-oriented investment strategy, utilizing ETFs to construct multi-asset class portfolios. Pedro earned his MBA from the Bertolon School of Business at Salem State University and a BA from Universidad Católica Andrés Bello (UCAB) in Venezuela. Pedro is fluent in Spanish and conversational in Italian.
MATT KUNKE, CPA
Internal Consultant
Global X ETFs
Matt joined Global X in April 2021 to help the firm build out its research and product offerings in the blockchain and digital assets space. Prior to joining Global X, Matt was an Alternative Investment Fund Due Diligence Associate at J.P. Morgan. Mr. Kunke received his Bachelor of Science in Mathematics and Finance from Portland State University in 2016 and is a CFA charterholder.
About Global X by Mirae Asset



Mirae Asset Global Investments ("Mirae Asset") is an asset management organization with over $146 billion in assets under management as of December 2019. The organization provides a diverse range of investment products including mutual funds, exchange traded funds ("ETFs") and alternatives. Operating out of 15 offices worldwide, Mirae Asset has a global team of more than 830 employees, including 180 investment professionals.