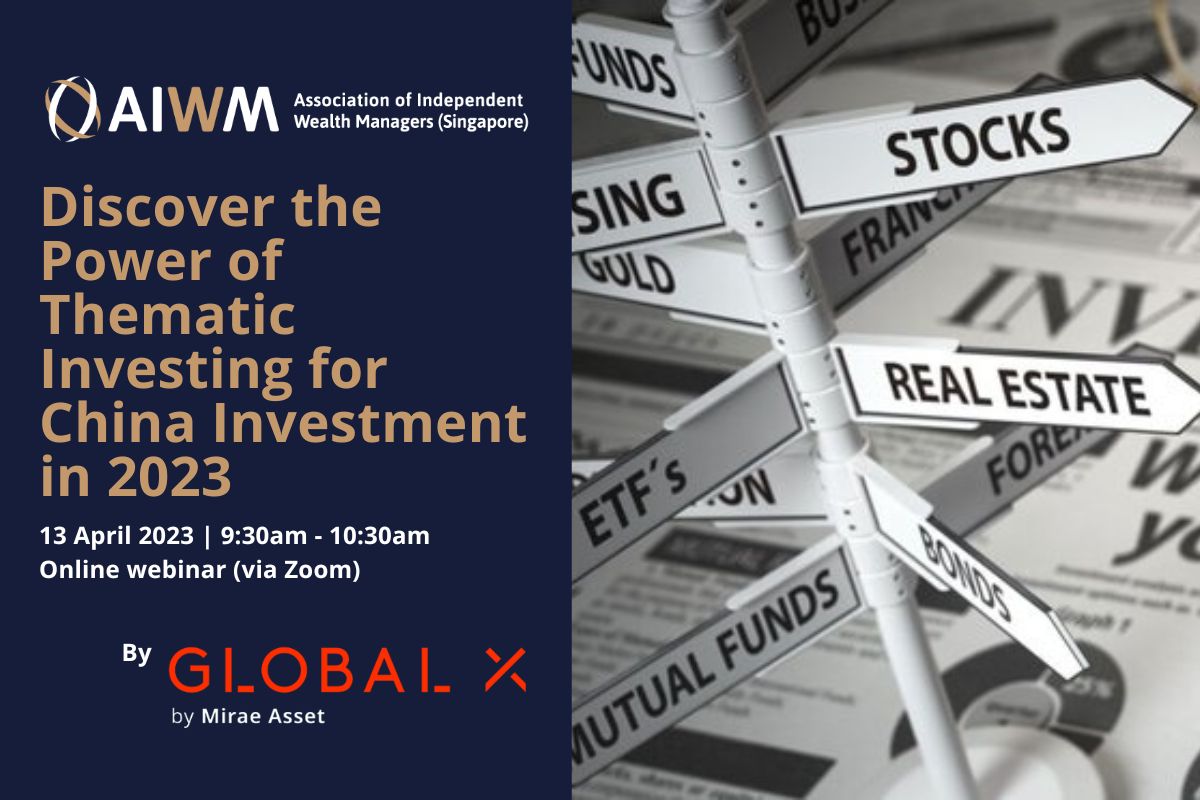 Discover the Power of Thematic Investing for China Investment in 2023
As China's economy continues to recover from the pandemic, it's an opportune time to explore investment opportunities in this market. However, with the uneven recovery and the need to repair corporate and personal balance sheets, it's important to identify the right investment strategies to navigate this market.
Thematic investing is a powerful approach that can help investors identify long-term trends and structural shifts that are shaping the world around us. By focusing on themes like clean energy, electric vehicles, or e-commerce, investors can gain exposure to the companies that are leading the way in these areas. This approach has become increasingly popular in recent years, and for good reason. Thematic investing has the potential to generate strong returns and provide diversification benefits.
Join Mirae expert, Phil Lee, Head of Asia Pacific Research at Mirae Asset Global Investments (Hong Kong), will share his insights on thematic investing and key themes to watch out in China in Q2 2023.
Notes:
Certificate of Attendance (COAs) are issued based on participants' attendance records.
By registering for this event, you agree and consent to AIWM's Privacy Policy
Speaker
Phil S. Lee
Head of ETF Strategy
Mirae Asset Global Investments (Hong Kong) Limited
Phil has been with Mirae Asset since 2007. He became a member of the Hong Kong-based Asia Pacific Research Team in 2010; initially as Deputy Head of the Team while covering the Asia Pacific Financials and Consumer Discretionary sectors. He has been overseeing the Asia Pacific Research Team since 2014.
Phil started managing the Luxembourg-domiciled Mirae Asset Asia Growth Equity Fund since January 2015. He has also managed a number of China flagship funds domiciled in both Luxembourg and Korea since March 2019.
Prior to joining Mirae Asset, Phil started his career as Equity Analyst & Market Strategist at Daewoo Securities Korea in 2006. He then joined Mirae Asset Securities in Seoul the following year as Strategist and Small Cap Analyst before moving to Mirae Asset Global Investments in Seoul in April 2008 where he was Investment Analyst covering Autos, Financials and Real Estate sectors. He was later transferred to the Global Investment Team in November 2009 as Research Analyst before relocating to the Hong Kong office in 2010.
Phil earned his bachelor's degree in Economics from Seoul National University. He speaks Korean, English and reads Chinese.
He is the author of the book titled "The Future of Asia Investment". The book analyses investment opportunities in Asia and is written in Korean. He is also a well-known columnist in Korea writing on global investment.