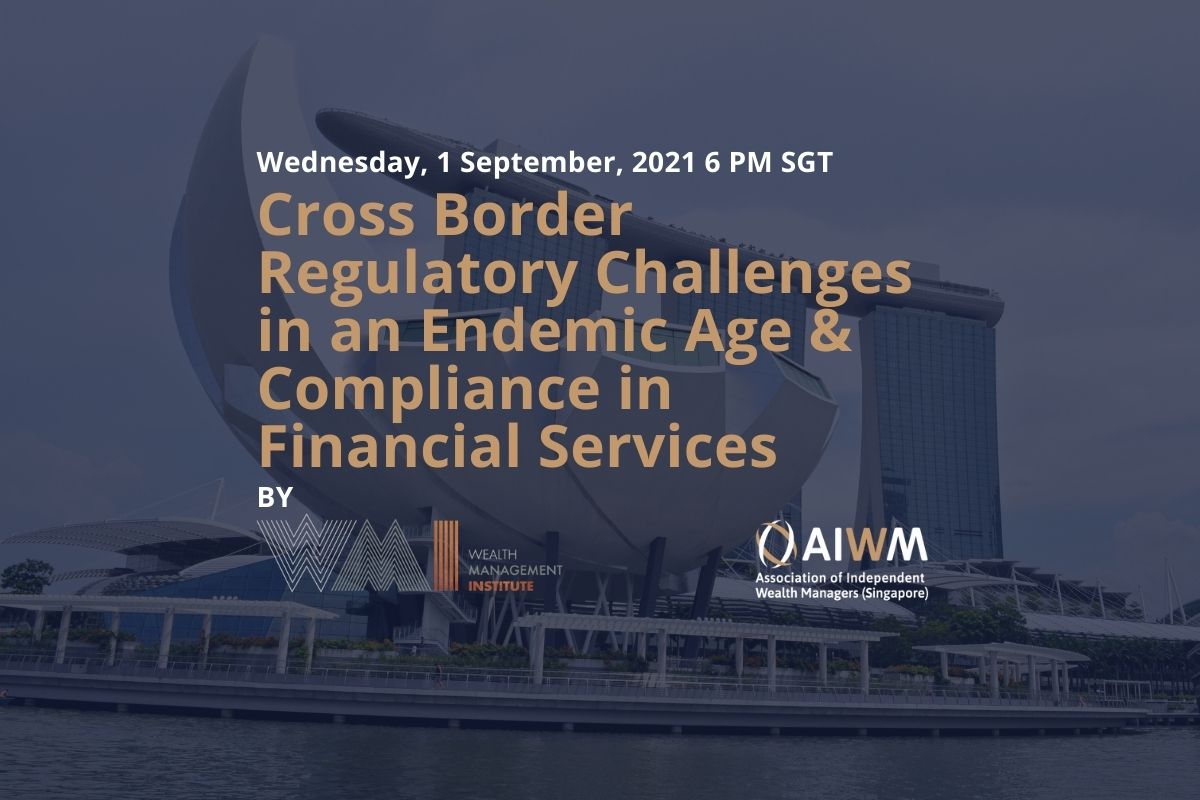 Cross Border Regulatory Challenges in an Endemic Age & Compliance in Financial Services by WMI
Webinar Session on Wednesday, September 1, 2021, 6 pm (SGT)
Hosted by:

We are delighted to share that Wealth Management Institute (WMI) cordially invites you to join their 1-hour talk on the challenges on Cross Border Regulatory.
The pandemic is giving rise to new approaches to traditional marketing and client management. This helped amplified client communications, offering and delivering financial products and services in non-presence markets, cross-border sales and licensing issues. It is pertinent that with data privacy, outsourcing and regulatory change management, compliance officers must understand and leverage new regulatory technology (Regtech) available, given the interplay of various regulatory regimes and changes in the landscape. This can also be a competitive advantage for firms.
Join the panel of experts as they share their perspectives on the changing nature of these traditional challenges and new, innovative compliance regulatory technology approaches to address these risks. The session will aslo share more about the Graduate Diploma in Compliance in Financial Services, which addresses this topic and more.
PANELISTS
Mr. Ralf Huber
Co-founder, Apiax AG
Former Head, Advisory and Control Group, Credit Suisse Asset Management
Ralf has over 16 years of legal and compliance experience within the financial industry and holds a Master of Law from the University of Zurich. Starting his compliance career at Zürcher Kantonalbank. Ralf went on to perform a variety of different legal and compliance roles at Credit Suisse. Ralf managed a team covering all legal and compliance tasks for the investment services and products business in Switzerland. Ralf has always been passionate about standardisation and leveraging technology to simplify the demands of modern legal and compliance work.
Mr. Rolf Haudenschild
Co-founder, Ingenia Consultants Pte. Ltd.
Rolf Haudenschild heads Ingenia Consultants Pte. Ltd., a leading compliance and internal audit provider to external asset managers, fund management companies and fintech companies in Singapore. Before establishing a compliance consultancy, Rolf worked with FINMA, the Swiss financial service regulator, and in legal and compliance at international and regional private banks. Rolf is a qualified attorney-at-law and holds an MLaw from the University of Berne, Switzerland as well as an LLM in International Financial Law from King's College London, United Kingdom. He is regularly speaking on compliance in conferences and conducting courses for industry associations.
Moderated by:
Ms. Sharon Carggs
Director, Programme Development, WMI
IBF Distinguished Fellow (Compliance)
Sharon's professional experience includes appointments as Global Head of Compliance for Abu Dhabi Islamic Bank in the UAE, Bank ABC in Bahrain and DBS Bank, with global responsibility across all lines of businesses and markets and all regulatory and compliance disciplines. She has held senior roles in J.P. Morgan and Standard Chartered Bank, started her career at the Monetary Authority of Singapore (MAS), and was also appointed to the MAS Appeals Panel.