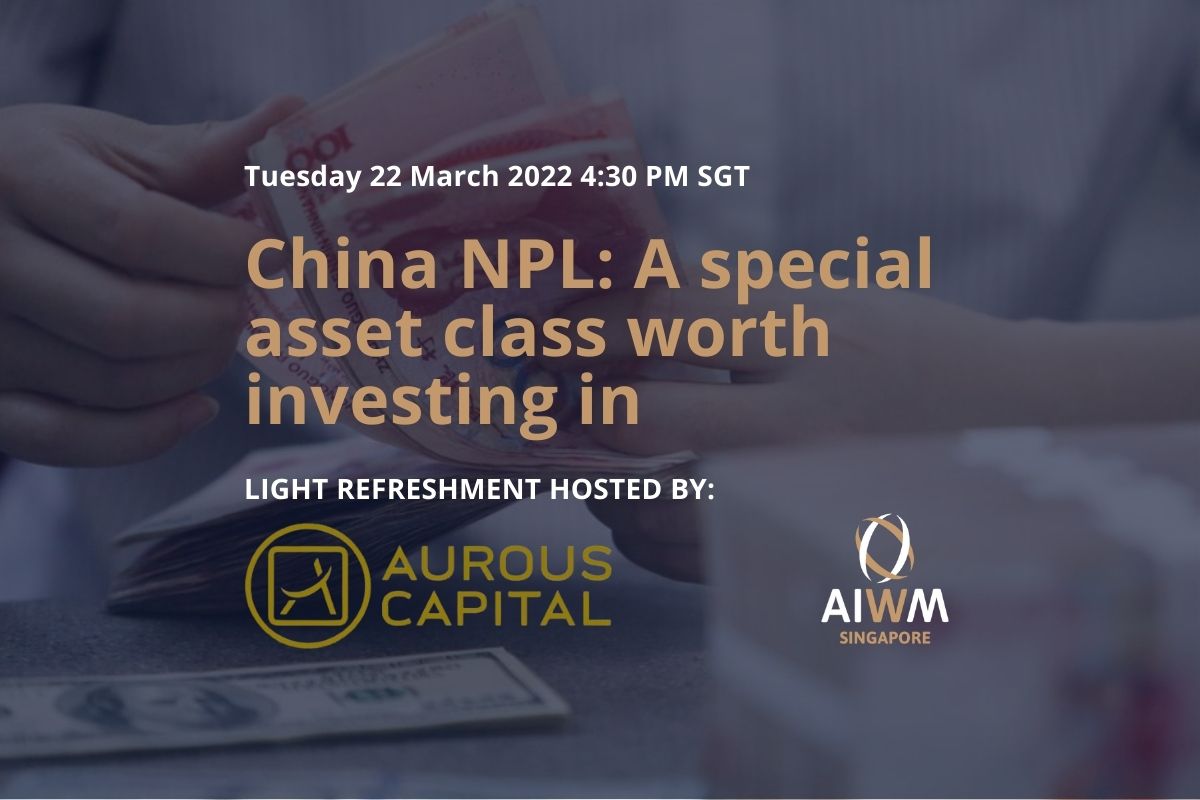 China NPL: A special asset class worth investing in
We are delighted to share that Aurous Capital cordially invites you to join an afternoon light refreshments and to talk about a special asset class worth investing in.
As China's property market faces its biggest crisis in recent years, there has never been a better time to invest in Non-Performing Loans (NPL) arising from Special Situations.
This special asset class offers investors the opportunity to benefit from the resale of the underlying real estate collateral of defaulted loans. With Chinese enterprises and property developers under the pressure of deleveraging reform and tapering growth, the supply of NPLs continues to rise, creating a unique opportunity for investors looking for counter- cyclical alternatives to traditional asset classes. Despite their attractiveness, Asian NPL products are difficult to come by, access to such products is typically limited to large institutional investors globally.
For this session, Aurous Capital is in a unique position to help investors unlock value from China's NPL market. Helmed by global financial market experts and staffed by a dedicated NPL specialist team in China managing the portfolio on the ground, the company offers a unique product which capitalises on NPL opportunities in Kunming, the capital of Yunnan province. Having multiple layers of safety margins which signifies low risk for investors is what Aurous Capital focus on. With Aurous Capital's privileged access to the market, we are able to lock in the target Return On Investment (ROI) before the NPLs are acquired.
Tuesday, 22 March 2022 at 4:30 PM SGT
Venues:
Physical Session: NUSS Guild House @ Suntec, 3 Temasek Blvd, #02 – 401 / 402, Singapore 038983
About Aurous Capital

Aurous Capital is a boutique investment management firm that specialises in private market strategies in real estate and private equity and private credit, with our key focus in China and Southeast Asia.
Helmed by seasoned investment professionals with more than 100 years of combined work experience homed in global markets, wealth management, sovereign wealth fund management, private markets, we are a solid team capable of delivering superior products and services which result in a meaningful contribution to our investors' investment needs and society at large.
---
KEYNOTE SPEAKERS
Kenneth Yeo
CEO | Aurous Capital Pte Ltd
Mr. Yeo joined us from CreditEase Singapore where he was CEO and Head of the Wealth Management Sales division, where he was responsible for growing the brand in Singapore to be the Top Chinese focused Alternatives Investments distributor to Wealth Management and Institutional Clients.
Based in Singapore, he has 19 years of wealth management experience. Prior to CreditEase, Mr. Yeo was Managing Director, Head of Investment Services and Product Solutions, Southeast Asia at HSBC Private Banking and before his Private Banking role, Mr. Yeo was the Director and Head of Wealth Solutions Sales at HSBC Global Markets where he held key sales positions in Equity, Credit, Interest Rates and Foreign Exchange derivatives. Before joining HSBC, he was with Citigroup for over 2 years as an Equity and Fund Derivatives Dealer.
Derek Chang
Managing Director, Aurous Capital Pte Ltd
Derek Chang has over 20 years of investment experience in a Singapore sovereign wealth fund. Initially, as an Equities trader covering Asian markets and then was based in London covering European markets.
Since 2005, Derek has managed active global quantitative Equities mandates, led a team managing beta and smart beta mandates in Global Equities and Commodities, and most recently established and developed the global securities financing program in Equities.