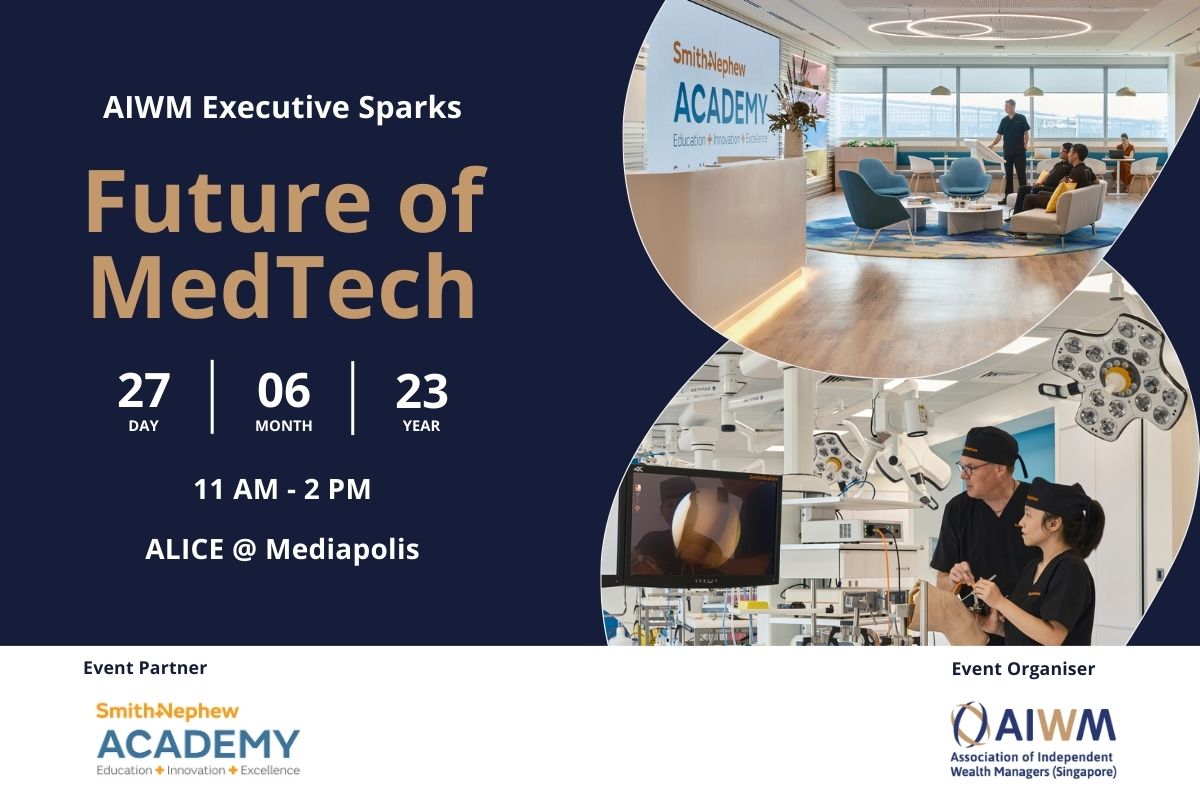 Future of MedTech
AIWM Executive Sparks
We're excited to bring you the 2nd instalment of the AIWM Executive Sparks! Encouraged by the success of our inaugural session, Future of Food, we are now bringing you the Future of MedTech, happening on Tuesday, 27 June 2023, from 11am to 2pm!
In this specially-curated visit for AIWM at the Smith and Nephew Academy Singapore, you get to have a rare and first-hand tour experience of the innovation and education ecosystem for healthcare professionals. "What are today's challenges in healthcare?" "What are the emerging digital health trends in Singapore and Asia"? Some burning questions that you have, we may discuss with healthcare thought leaders over a fire-side chat and lunch after the tour.
Launched in November 2022, and inaugurated by Mr Gan Kim Yong, Minister for Trade and Industry, the Smith+Nephew Academy Singapore offers state-of-the-art facilities with leading-edge technology, to provide an immersive training and design experience for the 3,500 healthcare providers it trains in the Asia-Pacific region.

We look forward to another exciting dialogue to Redefine, Reimagine and Reinvent tomorrow.
---
EVENT DETAILS:
– Date: Tuesday, 27 June 2023
– Time: 11am to 2pm (Registration starts from 10.30am)
– Where: ALICE @ Mediapolis, 29 Media Circle, Level 10, Singapore 138565
---
PROGRAMME:
10:30 am – Registration Starts
11:00 am – Academy Tour
12:00 pm – Presentation and Fireside Chat
12:30 pm – Networking Lunch
2:00 pm – Event Ends
---
Important Notes:
1) A SGD150.00 no-show penalty fee per person is applicable for this event.
2) By registering for this event, you agree and consent to AIWM's Privacy Policy.