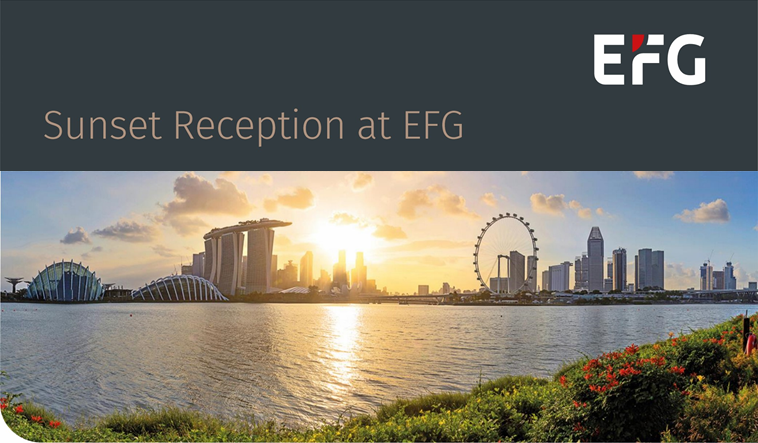 AIAM Q3 Event | 5 September 2018

Sunset Reception at EFG

In conjunction with AIAM, EFG Bank cordially invites you to an After-5 networking reception.

With concerns throughout the region of trade wars, geo-politics and de-leveraging, innovation has proven ever more vital to Asian companies' future growth and success. For decades the US has led in this area, creating global tech giants, but in recent years this has rapidly changed, with innovation now shifting from the West to the East. Everywhere you look within Asia, there are now companies that can not only compete with the US and Europe, but in many areas surpass, creating their own innovation.

Join us at our After-5 networking reception in the search for Asia's future leaders.

To RSVP please email EFG_Marketing&Communication_Asia@efgbank.com
Slots are limited, please RSVP by Monday, August 27

Please note: Due to technical issues, you might receive an "undeliverable" message from this group email address above. Rest assured that we do receive your RSVP and the marketing team endeavors to confirm RSVPs received individually by end of each day.

Please contact me at support-sg@aiam.org.sg if no confirmation within the day.

SPEAKER

Terence Tan
Head of Investment & Wealth Solutions
EFG Bank AG Singapore

He has over 20 years of investment experience across the financial services industry. Prior to joining EFG Bank, Terence was Head of Wealth Management Services in BSI Bank and was responsible for the delivery of the bank's investment solutions. At Coutts & Co, he helped build up the product platform. Terence was a fund manager within the Asia Ex Japan Equities team at IJOB Asset Management.
This website uses cookies to ensure you get the best experience on our website.