AIWM Singapore is hiring!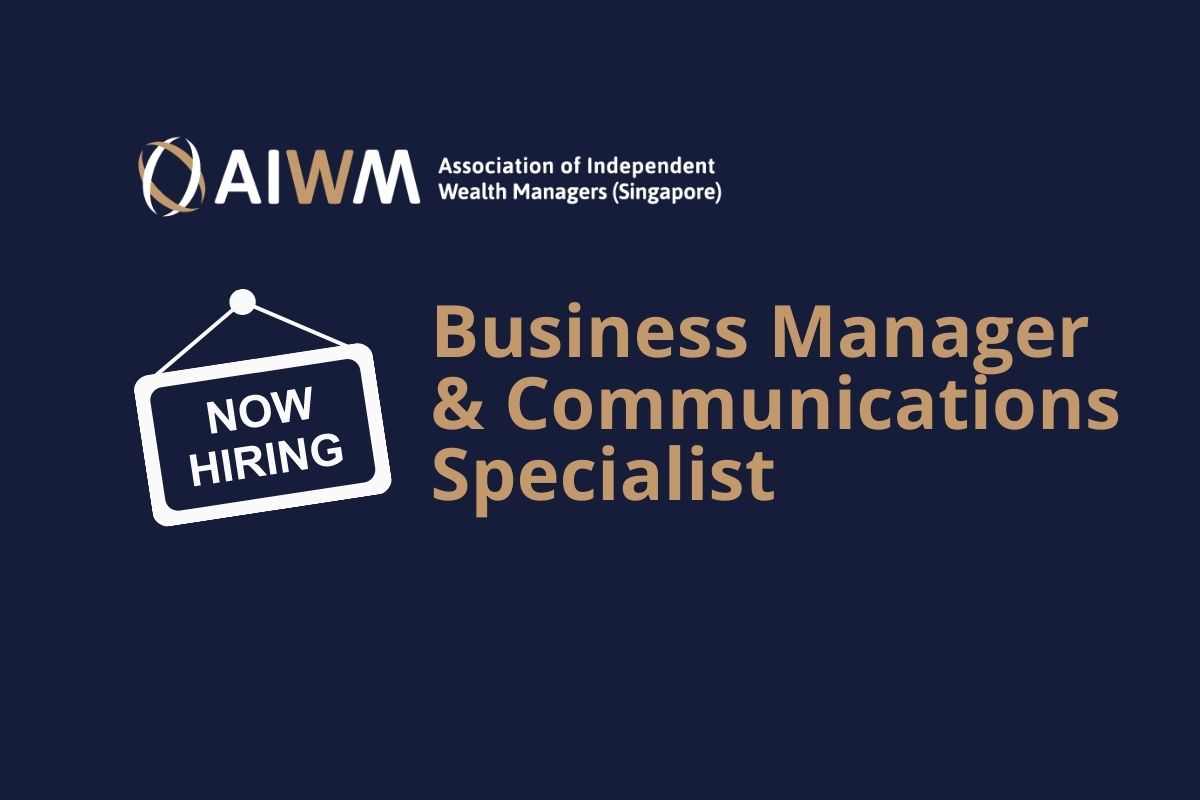 Job Title: Business Manager, Strategy and Communications Specialist
The Association of Independent Wealth Managers (AIWM) is seeking for a part-time Business Manager, Strategy and Communications specialist to drive and coordinate its activities with internal and external stakeholders. The ideal candidate would need to work independently and have a strong entrepreneurial spirit. This is a newly created role, proactivity and organisational skills are key.
Main responsibilities 
External and Internal Communications

: Responsible and accountable for the association's communications and activities programme to protect and enhance the organisation's reputation and visibility. Collaborate closely with the AIWM's Committee to develop and execute events, initiatives and communication strategies. 

Drive corporate communication, deliver AIWM's key messages through both digital and traditional channels

Develop content and messaging for AIWM's spokespersons on media (pitch, briefing documents, Q&A, etc.)

Develop media materials and collaterals

Manage all inbound press inquiries and coordinates media interviews

Develop and drive internal communication campaign (ie. internal newsletters for members)

Events management

: Create and manage projects, events, and seminars to promote the association and its member companies along with our event organisers. 

Develop programme of events together with committee members and associate members 

Ensure that events are relevant and drive attendance

Business Development/ AIWM representation: Engage with member companies and non-members to support the association's growth.

Engage with existing members to identify business needs and gather feedback on views and concerns

Engage with prospective members

Build and maintain relationships with stakeholders (government agencies, other industry bodies, academia, media etc.) 

Record keeping of relevant documents / contracts / agreements

Day-to-day operations

:

Managing relations with external vendors to ensure timely and quality delivery of service
Requirements
Min. 8 years' experience in positions whose primary responsibilities included marketing, public relations, corporate communications 

At least bachelor degree in PR, Marketing, Communications, Business or any other relevant field

Proven understanding of wealth management/ private banking / financial services industries 

Strong interpersonal and communication skills

Excellent English both written and spoken with strong copywriting, communication, and presentation skills

Ability to work independently

Proven track record as coordinator

 
What we offer
Flexible work arrangements (part-time 50% welcome

)

100% remote work (no office space)

Exposure to a thriving industry

Strong autonomy and ability to plan work independently 

Budget to be defined
About the Association of Independent Wealth Managers (Singapore) 
Established in 2011, the Association of Independent Wealth Managers (Singapore) is the representative industry body for External Asset Managers and Multi-Family Offices in Singapore. Recognised by the Monetary Authority of Singapore, it is a diverse and consultative trade association that drives the development of Singapore's independent wealth management industry. 
As the leading industry advocate for independent wealth managers, AIWM Singapore actively promotes dialogue and engagement between regulators and various stakeholders within the community. 
AIWM Singapore is also committed to championing best industry practices, strengthening the visibility and reputation of independent wealth managers, fostering collaboration among industry peers, and empowering members through continuous education, training development and networking opportunities.
Send your resume to support-sg@aiwm.sg
This website uses cookies to ensure you get the best experience on our website.